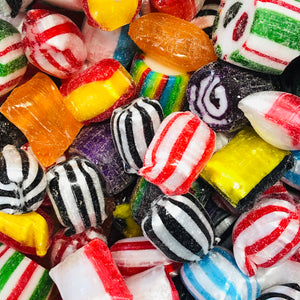 The Sugar free version of a classic Scottish Mix. 
A great mix of so many favourite flavours of boiled sweets.  From Rhubarb & Custard to Rainbow Rock and Mint, you will not be disappointed with this hard boiled sugar free mix. 
Ingredients; Sweetener: Isomalt, Bicarbonate of Soda, Flavourings, Butter (MILK), SOYA Lecithin, Citric Acid, Colours: E102, E110, E122, E124, E129, E133, E142, E150d, E155.
Made by Monarch