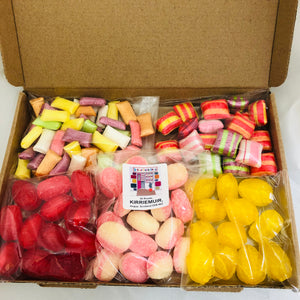 Small letterbox size gift of classic British sweets.

A perfect selection box of hard boiled and smooth sugar sweets including retro classics Sherbert Lemons and Chocolate Satins in a convenient letterbox size postal box.  
Contents:
80gms of; 
Rhubarb & Custard
Sherbert Lemons
Sherbert Strawberries
Sherbert Straws
Pear Drops
One of our brand new postage boxes that (when individually purchased) are sent First Class through Royal Mail for speedy and convenient delivery.  If combined with other products they are sent as part of a bigger boxed package.
Ingredients can be found on the individual listing on this site.