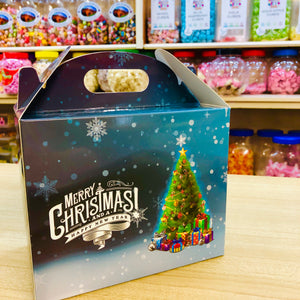 Everyday favourites that you didn't know were even Vegan, sweet selection in glossy keep sake card fold lid box.
A beautiful glossy printed slide stand up box with a fold roof sized 17x10x14cm filled with bags of some of the most popular treats that happen to be Vegan from the shop shelves.
Contents may vary slightly.
Can Include:
Fruit Rock
Sherbet Pips
Kola Cubes
Apple Fizz
Strawberry Millions
Raspberry Ruffles
Mint Cake
1 Sugar Mouse
1 Candy Cane
These boxes are all hand picked, please allow a reasonable amount of time for them to be packaged and sent.  We will process them and safely dispatch them as a single package through Royal Mail in plenty of time for Christmas.