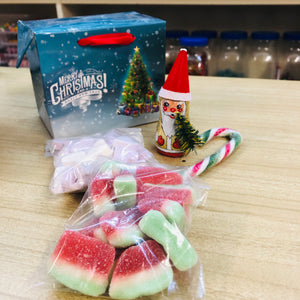 Christmas Pick n Mix and Sour Watermelon Slices in a small gloss individual box bag.
A beautiful glossy printed small box bag of the two Pick n Mix bags of treats - the hugely popular Sour Watermelon Slices and our shop's own Christmas mix.  Also includes a Candy Cane and a Chocolate Santa (may be substituted for similar chocolate shape).
These boxes are all hand picked, please allow a reasonable amount of time for them to be packaged and sent.  We will process them and safely dispatch them as a single package through Royal Mail in plenty of time for Christmas.