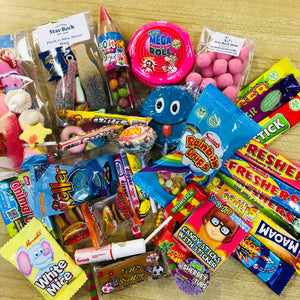 A 7" box - individual super treat of wrapped and Pick n Mix sweets.
With a good selection of different wrapped pick n mix sweets this box is a smaller version of the 9" sharing box, maybe between two, or a big present for one?
This is a selection from what we call the Kids shelves - its where all smaller ones head as soon as they walk through the door; Chews, candy sticks, gummies, lolly pops and more.
If you would like this box with gum and sours please choose; Individual Wrapped & Pick n Mix  Black 7" box.
At times it may be necessary to substitute some items, but there will always be a wide variety to appeal to everyone.
Please note, if you have a particular favourite you would like us to try to include let us know in the "Notes" box at checkout and we'll do our best. 
A selection box of sweets from various producers