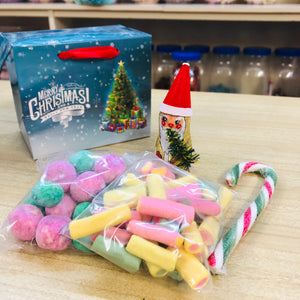 Bonbon & Haribo in a small gloss individual box bag.
A beautiful glossy printed small box bag of the most popular of all Haribo treats - Rhubarb & Custard, along with a mixed Bonbon bag, Candy Cane and Chocolate Santa Treat.  
The Bonbons will be a mix of two flavours; Blue Raspberry & Strawberry, however if there are two Bonbon favourites you would like to subsitute instead, please let us know the two in the the notes section at checkout. Please note, only two flavours will be in the Bonbon mix so if more are listed only the first two will be choosen.
These boxes are all hand picked, please allow a reasonable amount of time for them to be packaged and sent.  We will process them and safely dispatch them as a single package through Royal Mail in plenty of time for Christmas.