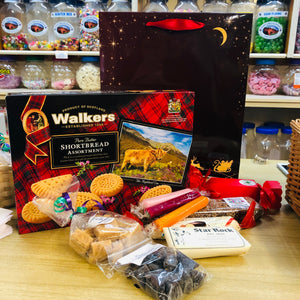 Sharing classic sweet selection in glossy keep sake sleeve box.
A beautiful glossy printed tall bag  box sized 35x27x14cm filled with a good range of sharing treats including Star Rock, classic Edinburgh Rock, Rhubarb Rock, Toffee and much more. 
Contents may vary slightly but typically contains;
Tablet
Horehound Humbugs
Star Rock Sticks
Macaroon Bar
Edinburgh Rock
Turkish Delight
Rock Sticks
Chocolate Creams in Cracker
Large box of Walker's Shortbread
Sugar Mice
These boxes are all hand picked, please allow a reasonable amount of time for them to be packaged and sent.  We will process them and safely dispatch them as a single package through Royal Mail in plenty of time for Christmas.