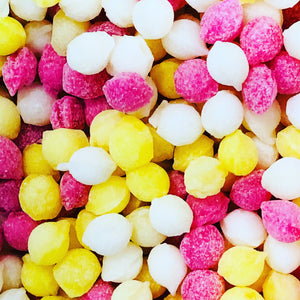 When you think of pips - the first you think of must be sherbet.
The traditional small round boiled sweet pip with mild fizz in flavours of Lemon, Pineapple and Strawberry.
Joseph Dobson and Sons are a fifth generation sweet manufacturer in Yorkshire, Joseph started the business in 1850 and it is now run by his great-great granddaughter.
Ingredients;
Sugar,
Glucose Syrup (Sulphites),
Citric Acid,
Sodium Bicarbonate,
Flavourings,
Colours: E100, E163.
By Joseph Dobson and Sons