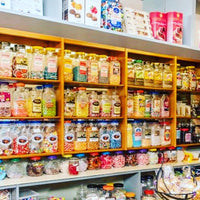 Star Rock Shop
Welcome to the Oldest Sweet Shop in Scotland. 
Established through the need of an income and providing for a family in 1833, the rock creation that led to the Star Rock Shop was in the same family for over 120 years. 
Today, the recipes are still the same and the wooden shop shelves bow under the weight of Scottish and British favourites, and the ever increasing additions of something new.  
Find out more of our history
Allergen Aware
We hope to cater for everyone and are keenly allergen aware with ranges for Sugar Free, Vegan and Vegetarians, Dairy Free, Gluten Free and Halal.
Simply type your dietary requirement into the search box at the top of the page to find your perfect treat.
Packaging, Postage and Delivery
The Star Rock Shop is a wee independent shop in the East of Scotland.  All products are hand packed and shipped from the shop.  As part of our recycling processes we try to reuse any packaging received in deliveries to the shop. Therefore one order may contain paper filling, another air cushions and bubble wrap. For more about our recycling principles find the link in the site footer.
It may be that the products ordered are made in the the shop and to fulfil your order a fresh batch or two is needed.  For each flavour of rock it takes 1.5 hours to boil, roll, shape then set the rock.  Due to the standing process of the tablet it takes a minimum 24 hours to make a slab. We also have over 300 jars of sweets which are picked and packed only as we receive the order. Why am I telling you this - we ask that you allow 5 working days for us to process your order and pop it in the post safely packaged.
We normally send all orders through Royal Mail 1st class delivery at a charge of £3.00 to accomodate 24 hour delivery where available, (we pay the greater set rate charged by Royal mail) for parcels with a sweets total weight up to 1.8kg.  Larger parcels had previously been sent through a courier, however due to ongoing reliabilty issues we have made the decision to use Royal Mail Medium post at a charge of £6 to customers, (a cost of over £8.79 to ourselves) It would be great to be able to offer free postage - we understand that, however, we have very low prices so this is not something we are able to do, but we will continue to try to contribute as much as possible to the postage and not pass all of it on to customers. For further details of our policies please read Postage and Delivery terms