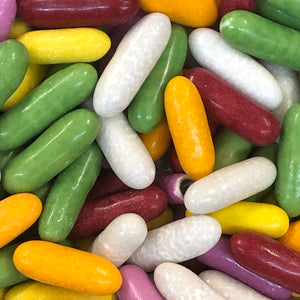 Liquorice chews in a sugar shell casing.
Not quite as big, or hard as the Torpedoes these liquorice multicoloured treats still have a big burst of liquorice flavour. 
A sugary outer cracks to the bite to reveal strong liquorice flavour chew.
Ingredients;
wheat flour (with added calcium carbonate,iron, niacin, thiamin), sugar, treacle, dextrose, water, glucose syrup, modieif tapioca starch, colours: calcium carbonate, curcumin, anthocyanins, mixed carotenes; glazing agents: shellac, carnauba wax; liquorice extract, vegetable oil: palm, coconut; safflower extract, flavourings, spirulina.
By Taveners through Tangerine Confectionery Ltd