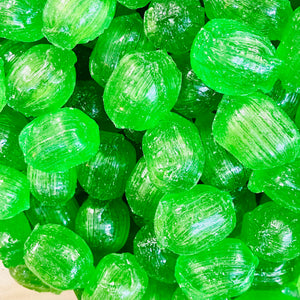 Green boiled sugar sweet of sour plum flavour
Sharp and super fruity, a child of Scotland favourite and one of our shop best sellers for locals and visitors alike.
A classic round boiled sweet of vibrant colour with a story to tell.  Reputed to be created in the town of Galashiels to commemorate a battle in 1337 when a group of Scottish Soldiers surprised the enemy who were feasting on sour plums straight from the trees, victory was had by the Scottish and the Galashiels coat of arms now pictures a plum tree.
Made by Hand by Monarch Candyco.
Ingredients; Sugar, Glucose, Citric Acid, Tartaric Acid, Flavourings, Colours; E102, E142.