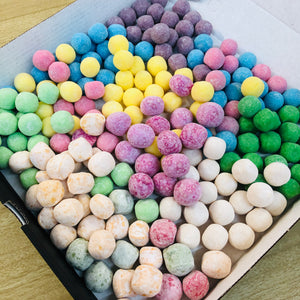 Black 9" flat box of 10 flavours
If you love bonbons but can't decide on which flavour, or if you simply love them all, then this is the box for you!
10 Flavours;
Original Toffee
Lemon
Strawberry
Apple
Cherry
Watermelon
Blue Raspberry
Bubblegum
Orange
Vimto
Bonbons are packed individually for postage - to decant into the box, simply empty each bag in turn where it sits in the box, equally distributing them across the base.
Bonbons from various producers, look to individual flavours for more details.
This is a full box sent out as an individual item incurring one postage amount.