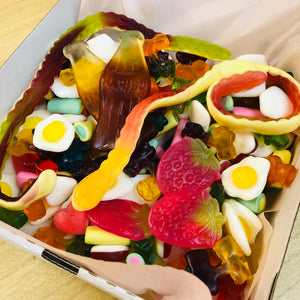 Haribo Pick n Mix munchie 600gmish
To share or not - it's up to you with this lose mix of favourite Pick n' Mix sweets in a 7" white flat pizza like box . 
Full of Haribo favourits such as Heart Throbs, Fried Eggs, Cola Bottles, Gold Bears, Rhubarb & Custard, Snakes and Jelly Strawberries.  
At times it may be necessary to substitute some items, but they will always be Haribo. 
Please note, if you have a particular favourite you would like us to try to include let us know in the "Notes" box at checkout and we'll do our best.
How to unpack and display my box, after receiving it through the post.  To ensure safe delivery your sweets are packed in one or two individual bags in the box. To get the full box display look - simply open each bag and pour out the sweets in a heaped pile in their place in the box (refer to the picture if needed).  Do not spread out the sweets, you will find the box fills up so the whole base is covered and the sweets will overlap in parts.
 PLEASE NOTE - DUE TO CURRENT RESTRICTIONS ON ACCESSING CERTAIN STOCKS, THE IMAGE SHOWN MAY DIFFER IN TERMS OF A NUMBER OF PICK N MIX ITEMS.
A selection box of sweets from Haribo