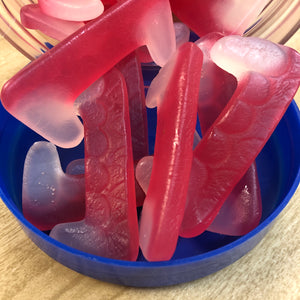 Firm Jelly Fangs with a chewy bite.
The original chewy jelly fang shaped treat, a retro sweet dracula treat still very popular today.
Ingredients; Sugar, glucose syrup, wheat starch, water, modified maize starch, modified potato starch, acids (lactic acid, malic acid, citric acid) fruit and vegetable concentrate (black carrot), flavouring, vegetable oil (coconut), glazing agent(carnauba wax).
Made by Kingsway