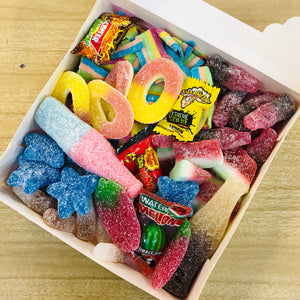 A box of Pick n Mix favourites containing sours and gum perfect for one!
One of our small 15cm square boxes filled to the brim with loose small wrapped and unwrapped Pick n Mix sour and gum favourites.  Fizzy sour Haribo gummies, cola bottles, sour strawberries, watermelon and other jelly fruits. Small individual bubble gums, some wrapped and liquid filled, jaw breakers. 
There are so many different choices in the Pick n Mix selection that this box will often vary, but never disappoint.
Please note, if you have a particular favourite you would like us to try to include let us know in the "Notes" box at checkout and we'll do our best. 
A selection box of sweets from various producers such as Haribo, Candy King, Trolli and Kingsway. 
Minimum content weight 475gms Box size 15cm square