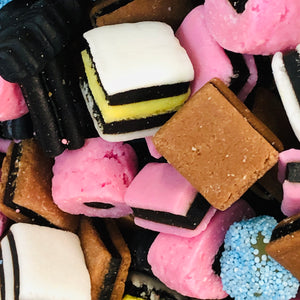 Everybodies favourite liquorice mix.

Here is what makers Maynards Bassetts say...
"The Original Allsorts
In 1899, when accident prone Salesman Charlie Thompson tripped up, he mixed up all the different sweets he was carrying, creating the weird and wonderful mix of sweets that we know and love today as Maynards Bassetts Liquorice Allsorts."
The mix includes liquorice, jellies, coconut and aniseed flavoured sweets.
Ingredients;
Sugar, Molasses, Glucose Syrup (contains Sulphites), Wheat Flour (with added Calcium, Iron, Niacin, Thiamin), Desiccated Coconut, Starch, Gelatine, Colours (Plain Caramel, Beetroot Red, Curcumin, Vegetable Carbon, Paprika Extract, Anthocyanins, Lutein), Fat-Reduced Cocoa Powder, Liquorice Extract, Flavourings, Vegetable Oils (Palm Kernel, Coconut, Sunflower), Caramel Sugar Syrup, Glazing Agent (Carnauba Wax), Concentrated Vegetable Extract (Spirulina)
By Maynards Bassetts