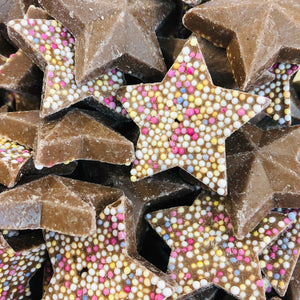 Milk Chocolate treats in star shapes.
Milk Chocolate stars about 5mm in thickness coated with a layer of multicoloured sprinkles.  A more substantial bite than original Jazzies.
Ingredients;
Sugar, Palm oil, Whey powder (from milk), Wheat flour (contains Calcium Carbonate, Iron, Niacin, Thiamin), Wheat starch, Fat reduced cocoa powder, Water, Emulsifier (Soya lethicins), Natural colours (Carotenes, Beetroot red, Chlorophyllin, Anthocyanins), Glucose syrup, Natural flavouring, Glazing agent (Beeswax).
Made by Kingsway