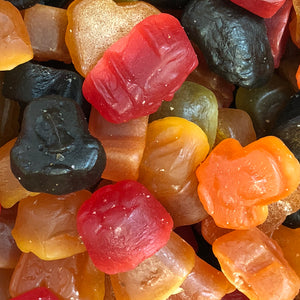 Hard fruit gums in sport shapes, flavours of fruit and liquorice
We are asked for Sports Mixture daily, even though the name has changed in recent years to Football Gums.  But that's the only thing to change.  These sports shaped gums (footballs, boots and shirts) are all natural fruit flavours and include the original liquorice black ones. 
Lion began making hard gums in 1903 and they have built a reputation for texture and flavour across their range.
By Lion through Tangerine Confectionery